Kenai River Fishing Guides
Kenai Wild Fishing – Your Kenai River Fishing Guides for Trophy King Salmon, Sockeye Salmon, Silver Salmon, Halibut and Rainbow Trout.
Your Guides To Alaska Adventure!
We're looking forward to being your Kenai River fishing guides and providing you the Alaska fishing adventure of a lifetime. Join us and explore the pristine waters of the Kenai Peninsula; the world famous Kenai River, Kasilof River, Cook Inlet, Prince William Sound, and several fly out remote destinations.
Whether you are an experienced angler or on your first fishing venture, Kenai Wild welcomes you and we can't wait to be your Kenai River fishing guides and help you make memories that last a lifetime.
Military Discounts
SALMON CHARTERS
World class salmon fishing on the Kenai and Kasilof Rivers. Fish for king salmon, silver salmon, and sockeye salmon.
SALTWATER CHARTERS
Experience an Alaska halibut, rock fish, and salmon saltwater fishing charter on Cook Inlet and Prince William Sound.
TROUT CHARTERS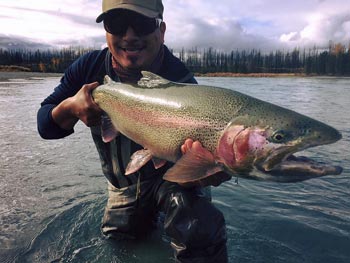 Catch and release fishing for wild Alaska trophy rainbow trout on the Kenai River, one of Alaska's top rainbow fisheries.
BEAR TOURS AND FLY OUT TRIPS
Bear viewing trips
can also be arranged for the finishing touch to your Alaskan adventure.
Year after year, Bear viewing tours continue to be at the top of the list of most favorite adventures for our Alaska visitors.
Fly by small plane across Cook Inlet to Lake Clark National Park to watch Alaska brown bears feeding and playing in their natural habitat.
We would be happy arrange a bear tour as part of your itinerary. MORE INFO

Kenai River
Fish the world renowned Kenai River and experience salmon and rainbow trout fishing at its best! Catch king salmon, silver salmon, sockeye salmon, and giant rainbow trout with our Kenai River fishing guides. It's wild fishing on a wild river. MORE INFO
Kasilof River
The Kasilof is a drift boat only fishery that provides plentiful runs of king salmon, silver salmon, sockeye salmon, as well as large populations of native rainbow trout, dolly varden, and steelhead. It's world class fishing! MORE INFO
Saltwater Fishing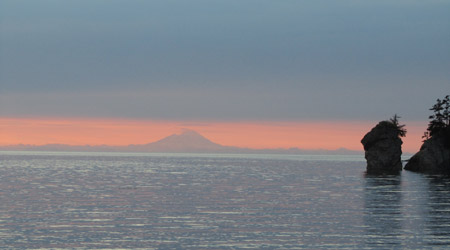 Fish the saltwater of Cook Inlet or Prince William Sound and catch abundant halibut, rockfish, and salmon. Combo fishing charters target multi species and larger bag limits to help fill your freezer. MORE INFO
Fly Out Fishing
Experience the stunning beauty of Alaska's backcountry on fly out float plane fishing trip with our Alaska fishing guides. Fish remote and untouched rivers and see some of Alaska's most wild places. MORE INFO
Your Kenai River Fishing Guides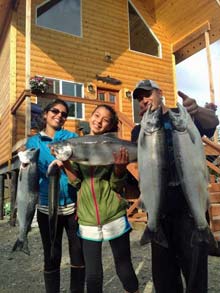 My family lives in Alaska year round and we have fished these waters for decades. We pride ourselves in great customer service and attention to detail and desire to keep our customers coming back year after year. If you are planning a Kenai fishing trip we hope you will make us part of your plans. We would love to serve you and help you make a memory of a lifetime!
What's Included?
Daily Salmon Fishing Charters

Daily Saltwater Charters

River / Saltwater Packages

Tackle and Bait Provided

Top Quality Rods and Reels

Fish Cleaning Included

Licensed and Insured

Custom River Boats

Professional Guide
Customer Reviews
"They were total professionals, taught us a lot, and made sure we were having a great experience. We recommend them!"

- R.M.
"I Would definitely recommend Kenai Wild Fishing Guides. Take the whole family!"

- M.L.
"Johannes knows right where to take you, he is one of the best guides I've ever fished with; he'll get you on the salmon every morning."

- T.H.
"I would recommend this to anyone who wants to experience Alaska off the beaten path"

- R.L.
"We fell in love with these guys. Made us feel so at home and helped us have an epic fishing trip. Thanks!"

- D.M
"The numbers of fish that run in the Kenai is AMAZING! Can't wait to come back and fish with Kenai Wild again."

- A.C.
Experience Epic Wild Alaska Fishing Adventures on The Kenai Penninsula
OUR BOATS
Kenai Wild is a fully equipped guide service. You'll be fishing aboard a top quality 20 ft Willie power boat or 20 ft Willie drift boat powered by Yamaha four stroke motors. These vessels are state of the art fishing machines, set up to fish four guests comfortably.
Our boats are equipped with comfortable bucket seats, seat boxes, plenty of dry storage, diamond plate floors, fish box and many more features that make for an enjoyable day of fishing. They are spacious, wide, stable, clean, and safe. They make great fishing platforms and are super comfortable to fish out of.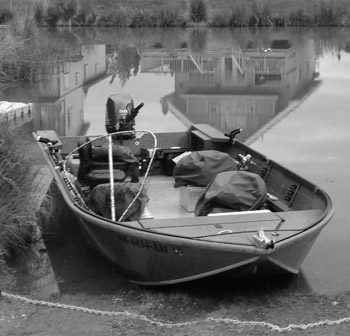 OUR GEAR
The key to a successful fishing trip is having an
experienced guide
and the proper gear. We will provide you with elite equipment. Our rods and reels are light, responsive, sensitive, and durable. There is a rod for every fishing technique and a reel to match. Fishing with quality gear can make for dynamic fishing opportunities. We spare no expense to ensure you fish with the very best.
RUN TIMING
The rivers and saltwater fisheries we guide are vast and each one has a slightly different run timing. This chart shows approximate run timing for the various species we target. Please call us to talk about the specific dates you want to fish and we can help you choose the best locations and species to target.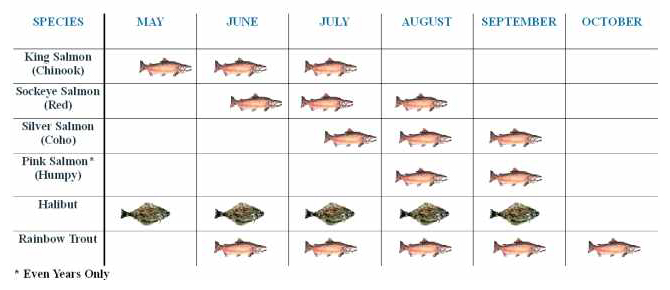 Kenai Wild Fishing
907-748-0815