Kenai Fishing Guide Rates
Fishing on the Kenai or Kasilof River will depend on the time of year and fishing preference.
Military Discount
Active Duty
– During the months of May and June, reserve three seats at full price and get fourth seat free (active duty only).
Active, Retired, Veteran – 10% military discount on Kenai and Kasilof trips in honor of my fellow service members.
*Military ID required for discount.
Kasilof and Kenai Fishing Guide Rates
May – June
Kenai River Full Day – $275.00
Kenai River Half Day – $225.00
Kasilof River Full Day – $275.00
Kasilof River Half Day – $225.00
July
Kenai River Full Day – $285.00
Kenai River Half Day – $235.00
Kasilof River Full Day – $285.00
Kasilof River Half Day – $235.00
August – September
Kenai River Full Day – $275.00
Kenai River Half Day – $225.00
Kasilof River Full Day – $275.00
Kasilof River Half Day – $225.00
What's Included
Professional Guide
Personalized Service
Top Quality Rods
Top Quality Reels
Tackle and Bait
We Clean Your Fish
Custom River Boats
Plenty of Parking Space
Close to Other Attractions
What's Not Included
Fishing License
King Salmon Stamp
Gratuities
Fish Processing
3% Tax
Questions?
Let us know if we can assist you in booking your Alaska adventure.
907-748-0815
907-529-9111
Ask About Salmon Combo Trips
On our full day trips at certain times of the summer we offer combo trips which allow our guests the chance to fish multiple species of salmon on the same charter. For instance, you could fish king salmon for part of the trip and then switch to catch a limit of sockeye salmon on the same trip.
Kenai River Full Day Combo Trip – Call For Prices
Saltwater, Bear Viewing and Customized Package Rates
Kenai Wild Fishing offers custom packages upon request. Packages can include saltwater fishing, Fly out fishing and Bear viewing.
Saltwater Fishing
The Kenai Penninsula provides many great saltwater fishing opportunities. If you would like to put together a customized package that includes saltwater fishing, we can make it happen. Call for Details and Pricing
Bear Viewing
Alaska bear viewing is one of the most popular activities enjoyed by our visitors each summer. We can arrange a bear viewing tour for you as part of your Alaska fishing adventure. Fish the river one day and fly out to watch Alaska bears the next. Call for Details and Pricing
Customized Packages
Alaska is a vast landscape with so many options to choose from. Let Kenai Wild Fishing help you put together just the right combination of activities to make your Alaska vacation adventure a memory of a life time. You can fish the Kenai River, Kasilof river, and then go for a saltwater fishing charter for halibut or rockfish. Then fly out for remote fishing and bear viewing. We can make planning simple and set it all up for you with a single phone call. Call for Details and Pricing
TERMS AND CONDITIONS
50% deposit will be required to reserve your fishing trip. Remaining balance will be due 30 days prior to arrival. Failure to make full payment for your trip will result in the forfeiture of all deposits and processing fees. Failure to show up at the designated time and location of your charter will result in you being charged the full amount of the charter.
Rescheduling is permitted within the same season with advance notice of 14 days and will depend on availability. Refunds will be given with a minimum of 30 days notice minus 5% processing fee of the total amount.
We reserve the right to cancel a trip for any reason. Unforeseen Circumstances, which make the charter unsafe can occur such as weather, mechanical issues, and any other circumstances that we deem the charter unadvisable. If any of these situations occur, we will first try to rebook you for a later date or rebook you on a different charter boat. If neither of these options are possible, we will refund your money, less a 5% processing fee.
Rate includes bait, tackle, fishing gear, and filleting of your catch. We can refer you to places in town that can process and ship for you.
Not included in these rates are: fishing license, King Salmon stamp, gratuities, custom fish processing or Kenai borough tax of 3%
Run Timing & Fishing Seasons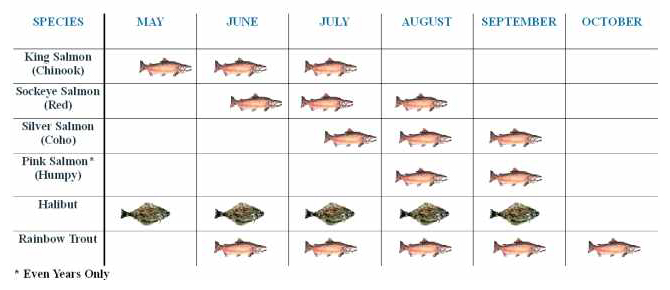 Affordable Kenai Fishing Guide Rates